Sustainability is the driving force behind our corporate strategy
At Forsee Power, sustainability is at the heart of everything we do. Not only we manufacture sustainable products, mitigating transport's impact on climate. We also commit to having a positive impact on people and the environment.
Positive impact through an ambitious sustainability strategy
Forsee Power Group was founded in 2011 on the strength of a conviction: the need to develop highly reliable energy storage technologies to support the energy transition in the transport market.
Over the years, we have made sustainability a key element and driver of our coporate strategy. We manufacture intelligent battery systems for sustainable electromobility, which contribute to mitigating climate change while having the smallest environmental footprint.
In 2019, Forsee Power decided to develop its own sustainability strategy, identifying key priority areas and drawing up a 2025 roadmap with ambitious targets.
In 2020, we integrated the founding principle of governance into the strategy. It aims to establish a robust and transparent governance system within the company.
In 2021, the structure of our sustainability strategy is changing. Now called Impact, it is structured around three pillars.
Our Impact 2025 sustainability roadmap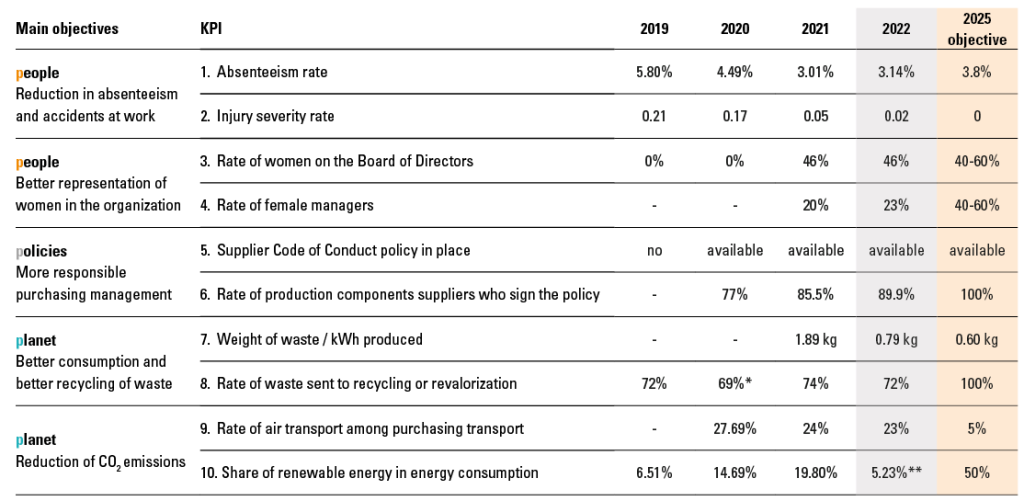 Each year, we evaluate our ESG performance with several non-financial rating agencies. These assessments have become real transparency tools for our various stakeholders: customers, suppliers and investors.
They also allow us to evaluate our level of performance and to develop our action plans for the continuous improvement of our ESG actions and commitments.
In August 2022, Forsee Power was awarded a gold medal by EcoVadis, with ratings in the areas of environment, social & human rights, ethics and responsible purchasing. Our Group is thus among the top 2% of companies in its sector.
In addition, we obtained a score of 77 out of 100 for our ESG 2021 EthiFinance performance. Forsee Power thus achieves an "Exemplary" level of performance on the EthiFinance ESG maturity scale.
A strong contribution to the United Nations Sustainable Development Goals
The United Nations Global Compact is the world's largest corporate sustainability initiative, embracing the principles and values of the United Nations. The Global Compact asks companies to align their strategies and operations with universal principles related to human rights, labour, environment and anti-corruption, and to take action to advance societal goals and the implementation of the SDGs.
To demonstrate our commitment, Forsee Power is a signatory of the United Nations Global Compact. We support their sustainable goals and, through our operations around the world, contribute to 5 of their objectives.
We contribute to target 5.5 by promoting a diverse and inclusive workplace, with an increasing share of women in management positions.
We contribute to target 8.8 by developing a strong HSE culture and monitoring workplace accidents and their causes.
We are contributing to the achievement of target 11.6 by improving air quality through the equipment of vehicles with batteries.
We contribute to target 12.5 by reducing waste production through a high recyclability rate of all our products.
We are helping to achieve target 13 by offering eco-designed products and services to decarbonize mobility.