Create value and protect people, wherever we operate
Forsee Power is focused on creating value, both for its employees and for the communities in which the Group operates. It focuses on promoting diversity and developing a strong health and safety culture.
Our employees are our greatest asset
Since the creation of Forsee Power, we have relied on the know-how, interpersonal skills and involvement of our employees, our primary asset.
They represent one of the three pillars of our sustainable development strategy, Impact. Creating value for our employees is an essential commitment for us, carried through to the highest level of our management.
Furthermore, as a signatory of the United Nations Global Compact, our Group is committed to respecting its 10 principles, in particular human rights and international labour standards.
In this way, we are committed on a daily basis to enabling each employee to find his or her place and to flourish in our agile and multicultural organisation.
rate of women on the Board of Directors in 2022
rate of women managers in 2022 at all our Group's sites
Diversity and inclusion, challenges at the heart of our HR policy
We are committed to providing an inclusive working environment, valuing diversity and respect – the first of Forsee Power's values – at all levels of the company. In particular, diversity is a founding principle of our human resources policy.
For our Group, a balance of genders, ages, origins and levels of education helps build a strong corporate culture. For example, we promote the integration of women, seniors, young graduates and people with disabilities through international days, internships, mentoring programmes and partnerships with schools and universities.
Forsee Power is particularly committed to parity, and has set targets for 2025 to increase the representation of women in managerial positions.
of women in the Forsee Power Group
of Forsee Power employees are over 55
different nationalities across our Group's sites
Social dialogue to promote the development of our employees at work
At all its sites, Forsee Power regularly engages in social dialogue with its employees and listens carefully.
Since 2017, we have been conducting an annual satisfaction survey among the Group's employees. In order to guarantee neutrality and anonymity, the survey is outsourced using the Great Place to Work benchmark. It covers topics such as working conditions, a clear understanding of strategy, communication and management methods.
With the aim of making our Group a great place to work, the survey helps us to better understand these issues and define action plans to improve employee satisfaction.
Forsee Power works on the subjects of Quality of Life and Working Conditions (QLWC), the company environment and the problems encountered by employees. The QLWC Commission meets regularly to propose relevant actions to address the issues raised by the survey.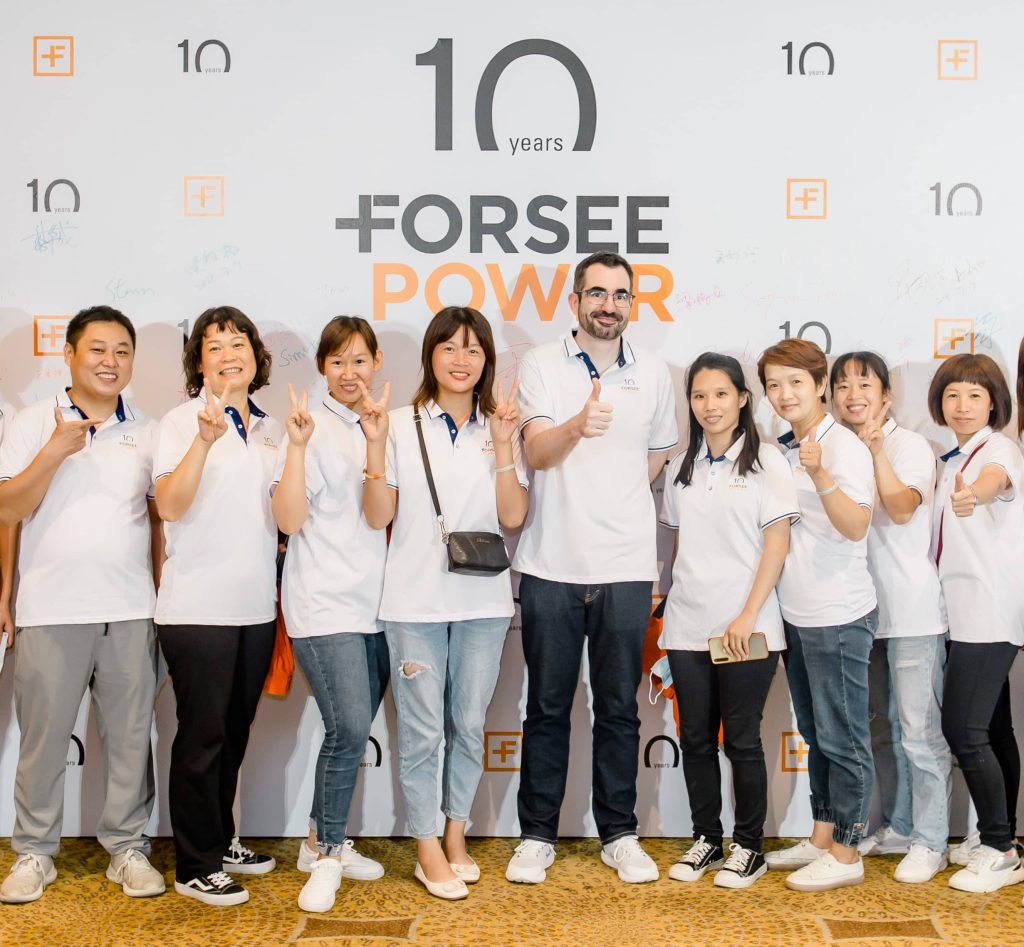 A strong HSE culture to ensure a high level of safety on our sites
Ensuring the health and safety of employees and stakeholders is Forsee Power's number one priority and we are constantly striving to improve in this area.
To prevent accidents and improve safety, each of our sites has a Health, Safety and Environment (HSE) programme. Forsee Power also focuses on training programmes to develop a culture of operational excellence that transcends the boundaries of our workplace.