Contribute to the decarbonization of transport and adopt more intelligent behaviour
Decarbonizing transport and reducing our planet's carbon footprint is the formidable role played by Forsee Power: by being a player in the acceleration of a zero-emission energy transition, we are helping to limit the impact on climate change, thanks to innovative products and services and responsible corporate behaviour.
Decarbonizing transport and reducing our planet's carbon footprint, an issue at the heart of our concerns at Forsee Power
At Forsee Power, global warming and ecology are at the heart of our concerns.
Sustainability is an integral part of the DNA of our Group, which has only one reason to exist since its creation: to contribute to the fight against climate change by offering the most complete range of batteries and services to enable sustainable, zero-emission electromobility.
This is why "Planet" is one of the three pillars of our sustainable development strategy.
In this way, we act daily by contributing to the decarbonisation of transport, which is responsible for more than 25% of global greenhouse gas emissions, as well as by adopting more intelligent behavior with regard to our energy consumption, and the production and management of our waste.
Accelerating the ecological transition with sustainable battery systems
Forsee Power aims to contribute to the efforts to limit the impact on climate change through its range of products and services for sustainable electromobility.
We continue to support manufacturers in accelerating their energy transition by offering efficient, zero emission technologies and financing solutions.
Forsee Power is also working to optimise the carbon footprint of its solutions as part of its eco-design and life-cycle extension initiatives.
Forsee Power battery systems designed for second life applications reducing carbon footprint
We have signed a partnership with stationary storage specialist Connected Energy to extend the use of battery systems to second life applications. Forsee Power ZEN 4 and ZEN 35 second life batteries will be integrated into Connected Energy E-STOUR containers and M-STORE large-scale installations.
Reducing our carbon footprint
In 2022, our carbon footprint will amount to 1073 tonnes of CO2 equivalent (tCO2eq), scope 1 and 2 combined. Scope 3 is not included in this total, as it is currently being calculated.
As part of its Impact strategy, Forsee Power is committed to reducing its greenhouse gas emissions.
To make this reduction possible, each year we measure our greenhouse gas (GHG) emissions linked to our activities – known as scope 1 emissions, our indirect emissions associated with our electricity and heat consumption – known as scope 2 emissions, and all the emissions that take place in our value chain, both upstream of our activity and downstream – known as scope 3 upstream and downstream emissions.
Although the assembly of battery packs represents less than 25% of the battery's carbon footprint, Forsee Power is implementing actions to further reduce this footprint and that of its operations.
In addition, Forsee Power contributes to the reduction of GHG emissions by equipping vehicles with its products. Thanks to the integration of our battery systems for buses and scooters sold in 2022, 557,184 tCO2eq will be avoided over the lifetime of these vehicles, the equivalent of 200,000 round trips between Paris and New York by plane.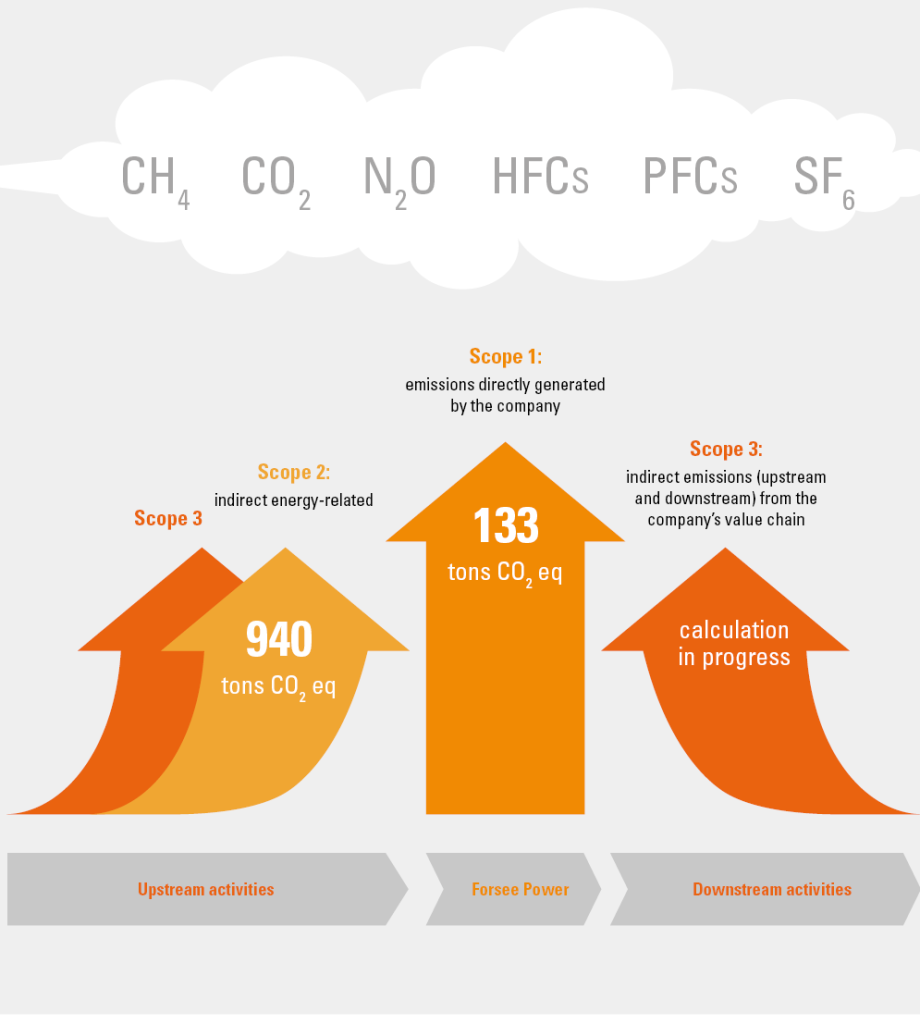 Reducing our consumption and optimising the energy efficiency of our facilities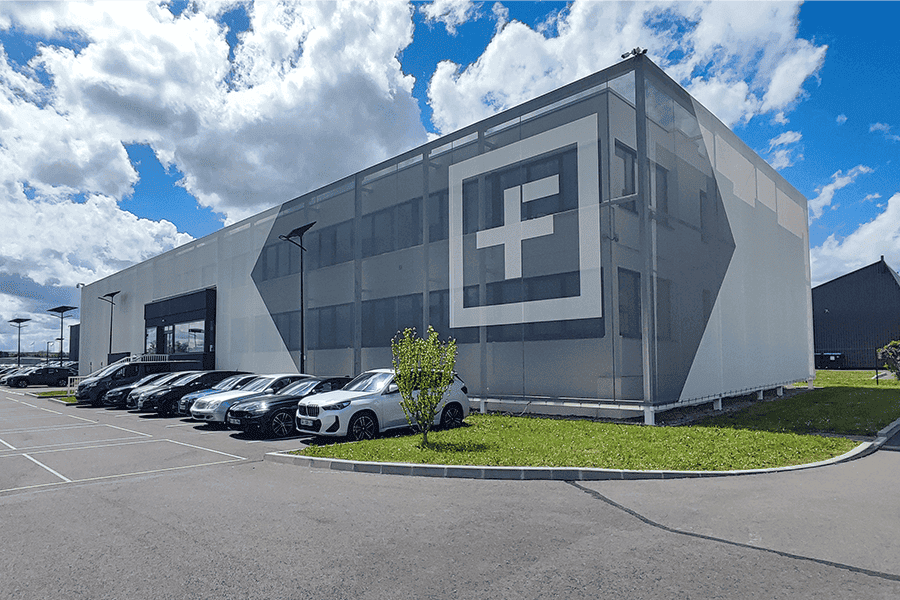 Energy sobriety is an ambition of Forsee Power. To make production less energy-intensive, reduce production costs and also limit CO2 emissions, we aim to optimise our energy consumption.
As part of the Impact 2025 roadmap, we have set ourselves a target of 50% renewable energy consumption out of the total energy consumed.
In 2022, in order to increase the share of renewable energies in our energy consumption, we launched the installation of a solar power plant, which will supply around 20% of the site's energy consumption by 2023.
Our industrial site in Chasseneuil-du-Poitou: eco-responsible and energy-efficient
In our Chasseneuil-du-Poitou factory, we have renovated the insulation system according to RT 2012 standards, enabling us to limit heating and air conditioning consumption.
This also ensures a significant reduction in the company's carbon footprint, as the factory does not emit any polluting molecules and does not have any combustion systems such as oil or gas radiators.
The structure also benefits from optimal access to daylight to limit the use of artificial light.
Adopting good waste management and encourage recycling
The management, recycling and reuse of waste is part of our sustainable development approach. We aim to have 100% of our waste recycled and recovered by 2025.
To achieve this goal, we are working with the best recycling partners and evaluating the most appropriate recycling and recovery methods for our needs.
To limit our environmental footprint, we also need to reduce waste in our production processes.
Therefore, we have defined a roadmap to promote purchases with a reduced volume of packaging and potential waste, to facilitate the study of reuse possibilities and to encourage collaboration with our suppliers in order to optimise packaging materials.
Finally, as waste sorting is one of the major factors in recycling efficiency, our sites are equipped with a sorting system in the production areas, in order to rationalise and optimise our processes.
share of waste recovered or recycled (excluding organic waste) in 2022