The advent of high power batteries for heavy electric vehicles
As the electric vehicle market continues to grow, attention is increasingly turning to high-power batteries capable of meeting the demands of heavy-duty electric vehicles.
While electric passenger cars currently dominate the market, heavy-duty electric vehicles, such as trucks, buses and construction equipment, represent a major potential for reducing emissions and the environmental impact of transport.
The PULSE range is Forsee Power's high-power range. The high-performance properties of LTO cells mean that vehicles with hybrid diesel or hybrid hydrogen engines can be charged very quickly (3 to 5 minutes) and very often (15 to 35 times a day), while enjoying an excellent service life of 15 years.
PULSE solutions cover a wide range of energies and power ratings, so they can be used for all hybrid mobility applications, from light to heavy duty.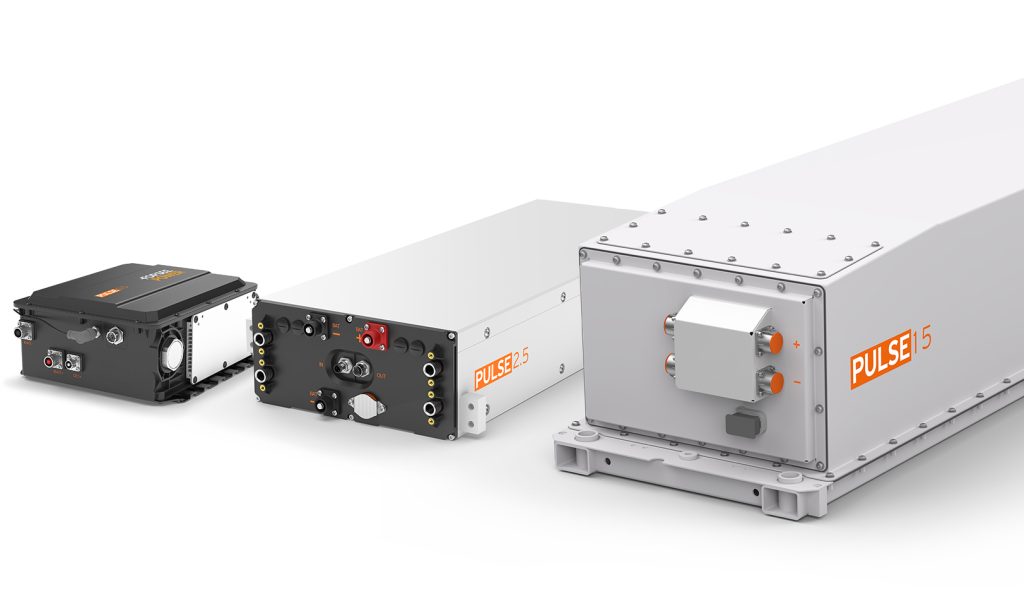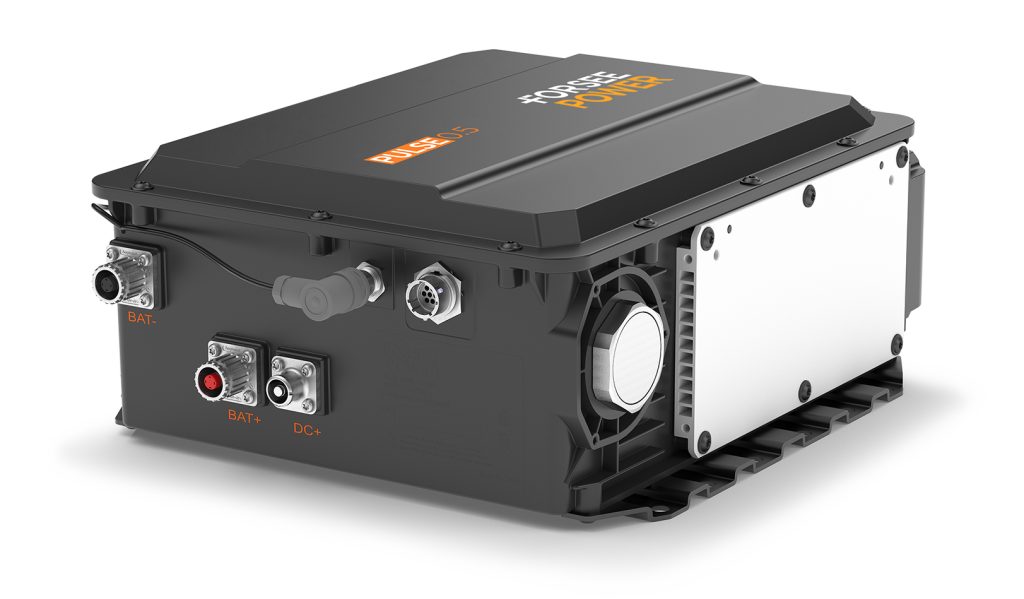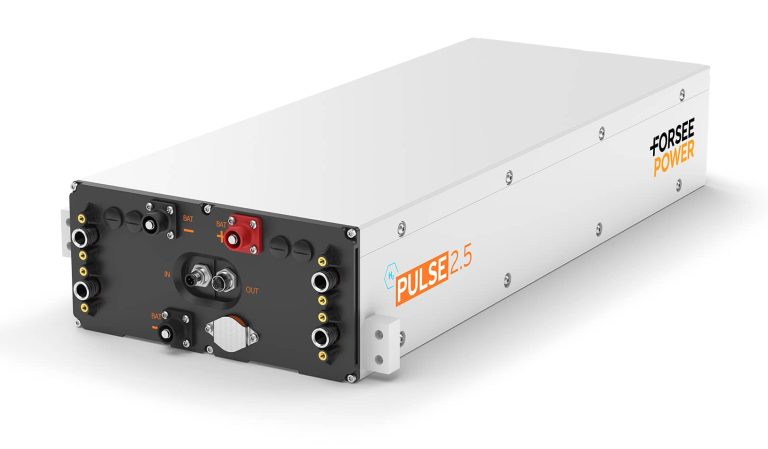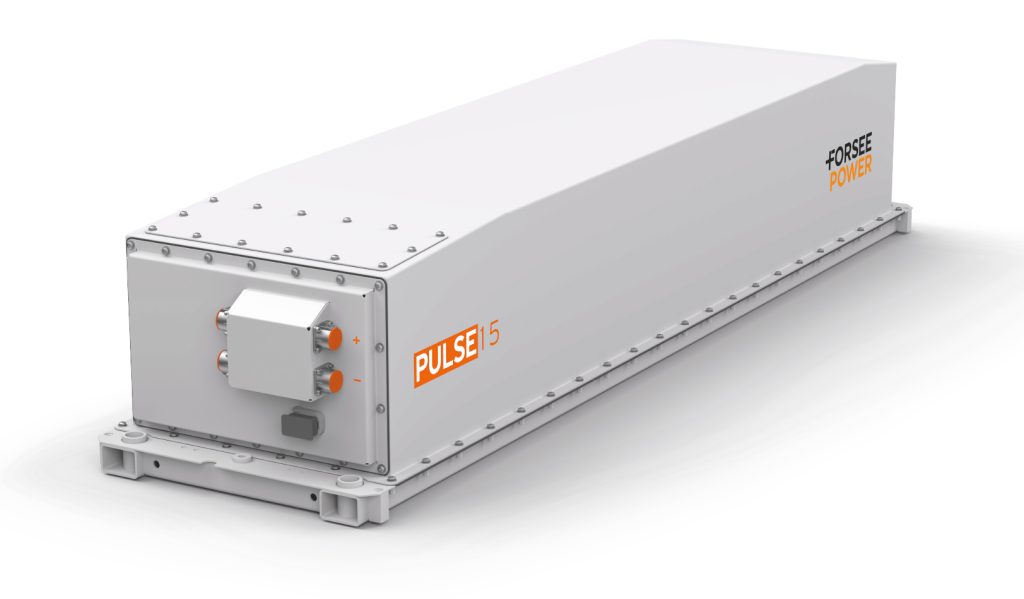 The development of high-power batteries for heavy electric vehicles
The advantages of high-power batteries for heavy electric vehicles
Heavy electric vehicles have specific battery requirements due to their size, weight and intensive use. Conventional batteries used in electric passenger cars cannot deliver the power needed to power these larger, heavier vehicles over long distances. That's why manufacturers and researchers are focusing on developing high-power batteries specifically designed for heavy electric vehicles.
High-power batteries for heavy electric vehicles must be able to withstand high loads and provide sufficient range over long distances. This requires advances in battery materials, including the use of higher performance anodes and cathodes, as well as the optimisation of thermal management to ensure reliable performance even in extreme conditions.
The use of high-power batteries offers a number of advantages for heavy electric vehicles. Firstly, they provide higher charging power, reducing vehicle recharge times and improving operational availability. This is particularly important for commercial vehicle fleets that require minimal downtime.
In addition, high-power batteries offer greater range, enabling heavy electric vehicles to cover longer distances before needing to be recharged. This considerably broadens the range of applications for heavy-duty electric vehicles, making them more competitive with internal combustion vehicles.

The PULSE 0.5 powers Kubota's micro-hybrid engines for light off-road vehicles
The Forsee Power Group has been selected by Japanese equipment manufacturer Kubota as a partner for the development of a battery to power their 48V micro-hybrid engine for light construction and agricultural vehicles.
After a year of research and development, Forsee Power engineers have developed a new high-power solution, the PULSE 0.5 , incorporating lithium titanate oxide (LTO) cells known for their long life and very high power characteristics, ideal for hybrid applications.
Our PULSE 0.5 battery module has been designed to comply with Kubota's ambitious specifications, which include the installation of battery systems in various types of vehicle, such as construction, handling and agricultural machinery.

We are equipping the CaetanoBus hydrogen buses with our PULSE 15 battery system.
Forsee Power develops cutting-edge technologies that meet all the needs and constraints imposed by the electric bus market: range, power, life cycles and safety.
This is why one of our main partners, CaetanoBus, has chosen Forsee Power to equip its H2.City Gold hybrid hydrogen buses with high-power PULSE 15 batteries.
The batteries are installed on the roof and are combined with 5 hydrogen tanks. As a result, the H2.City Gold can travel up to 400 km in zero-emission mode with the combination of Forsee Power's battery systems and fuel cells.