A solid and transparent system of governance
"Policies" is the first pillar of our sustainability strategy: Impact. It covers all material issues, risks and opportunities associated with governance.
Our Group is committed to two strategic axes: the implementation of a solid and transparent governance system, and the integration of ethical, environmental and social issues into our strategy, policies and decision-making processes.
Governance at Forsee Power
"Policies" covers all matters of governance, which is the foundation of our sustainability strategy.
For Forsee Power, governance represents an institutional framework based on ethics that will ensure effective leadership and a robust system. As such, it can have a positive impact on the company's strategy and vision for the future, help increase accountability at Board level and improve external reporting.
We have established a framework that recognises all the elements necessary for a sound approach to governance and accountability.
The Executive Committee, composed of senior management and led by the CEO, uses this framework to define and monitor responsible objectives, identify opportunities for improvement and ensure that all activities are aligned and consistent with market standards.
members in the Board of Directors
of the members are independent in the Board of Directors
committees: audit and risk, nomination & remuneration, strategy, ESG
Policies and commitments at Forsee Power, the foundation of our governance actions
Our policies reflect our commitments at Forsee Power. Based on material issues for our Group, but also for our stakeholders, we strive to make commitments that meet these expectations and push our ambitions beyond them.
These commitments, supported by governance and conveyed at each of our sites, allow us to build a strong and responsible corporate culture towards our employees and the planet. They support our vision of developing intelligent battery systems for sustainable electromobility.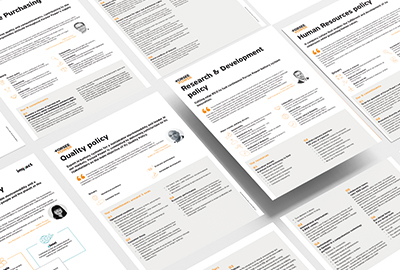 Non-financial rating, a tool to illustrate our sustainability performance
At all its sites, Forsee Power regularly establishes a social dialogue with staff and demonstrates attentive listening.
Since 2017, we have conducted an annual satisfaction survey among Group employees. To guarantee neutrality and anonymity, the survey is outsourced following the Great Place to Work benchmark. It covers topics such as working conditions, a clear understanding of strategy, communication and management methods.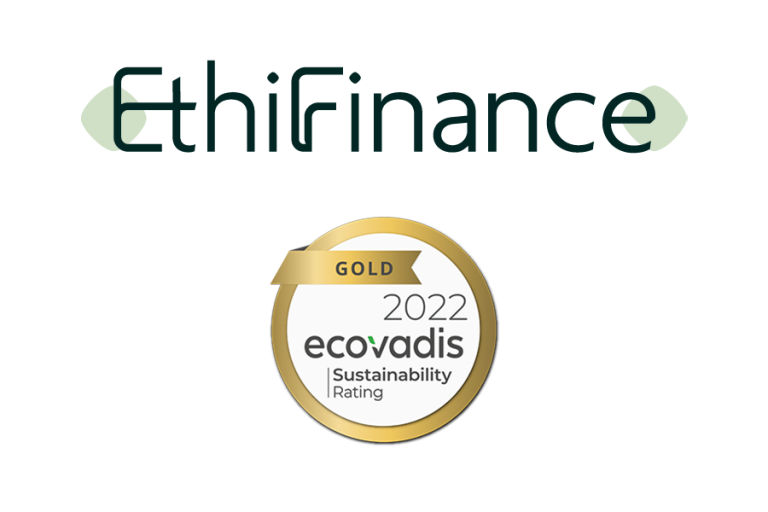 Forsee Power has been awarded a gold medal by the EcoVadis agency.
Rated on the themes of environment, social & human rights, ethics, and responsible purchasing, the Group has been awarded a gold medal by EcoVadis for its ESG 2021 performance.
Forsee Power is now among the top 2% of companies in its sector.
Forsee Power is rated at an "Exemplary" level of performance on the EthiFinance ESG maturity scale: the highest rating grade
Rated on governance, environment, social and external stakeholders, we obtained a score of 77 out of 100 for our 2021 ESG performance.
This score places us at an "Exemplary" level of performance on the Ethifinance ESG maturity scale.
The European Green Taxonomy, an indicator of our contribution to a sustainable economic activity
In order to promote transparency and a long-term vision in economic activities and to direct capital flows towards sustainable investments, the European Union has created a common system for classifying business activities in order to identify those economic activities considered to be sustainable: the European taxonomy.
Within this framework, Forsee Power has carried out an analysis of the eligibility of its activities with regard to the two objectives relating to the climate component of the taxonomy: mitigation and adaptation to climate change.
of the Group's revenue is eligible out of a total of  €111 million in 2022
of eligible CAPEX for the year 2022 out of a total of €17.3 million
A responsible purchasing approach to promote ethics and sustainability throughout the supply chain
As part of our contribution to the Sustainable Development Goals (SDGs) and with a view to continuous improvement, Forsee Power ensures that its supply chain promotes ethics, decent and safe working conditions, and diversity and inclusion.
As a signatory to the United Nations Global Compact, we aim to prevent and mitigate human rights and environmental risks in our supply chain.
We have formalised a Responsible Purchasing policy that reflects our commitments and we ask our suppliers to respect these commitments by signing our Supplier Code of Conduct.
To intensify our approach, we deployed our first ESG audit in 2022 at a major cell supplier in China. It was carried out by an independent third party, guaranteeing reliability and transparency.
The Supplier Code of Conduct, an indicator of our responsible purchasing policy
suppliers of production components having signed the Supplier Code of Conduct in 2022