High-performance lithium batteries to electrify industrial and special vehicles
Batteries for industrial vehicles are at the heart of Forsee Power's proposition. The electrification of these vehicles, driven by climate change and occupational health issues, is encouraging manufacturers to offer ranges of electric and hybrid vehicles powered by lithium-ion batteries.
Batteries for industrial and special vehicles must offer sufficient power and range to ensure optimum performance, while guaranteeing the safety of users and passengers and limiting environmental impact.






A strict regulatory framework to encourage the energy transition of industrial and agricultural vehicles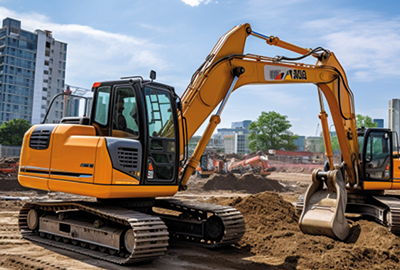 Since 1 January 2019, European (Stage V) and North American (Tier 4 Final) anti-pollution standards have imposed additional restrictions on nitrogen oxide (NOx) and particulate pollutant emission levels for non-road vehicles – agricultural, worksite and industrial – in response to public health, air quality and climate issues.
100% electric or hybrid, site vehicles – excavators, mobile cranes, diggers, bulldozers – used in the building industry and other construction sites, and agricultural vehicles – tractors, combine harvesters – are being electrified on a massive scale to meet the targets set.
As an expert in battery systems for electromobility markets, Forsee Power supports manufacturers in the energy transition of their industrial and agricultural vehicles, whether new or to be converted.
Power, range and lightness: what batteries for industrial vehicles need to deliver
We offer batteries that are both reliable and dependable, designed to last in harsh environments and offer high efficiency and long life. With more than 5,000 cycles of service life, Forsee Power batteries dedicated to industrial vehicles provide both power and autonomy.
Power is needed to drive vehicles at adequate speeds, to carry heavy loads and to withstand extreme weather conditions. Power is an essential requirement for industrial vehicles, as it guarantees their smooth operation and safety.
Batteries for commercial vehicles must also offer sufficient range to ensure optimum performance and to limit the number of stops required to refuel the batteries. Industrial vehicles can cover long distances and therefore need to have sufficient range to enable them to cover long distances without stopping. Batteries also need to offer good durability and long life to ensure a long period of uninterrupted use.
Our batteries for industrial and special vehicles are very light, so they don't add to the weight of the vehicles they equip. For example, our ZEN 8 SLIM battery weighs just 6 kg per kWh, giving it a very long range.
The ecological, economic and health benefits of batteries for industrial vehicles
Batteries for industrial and special vehicles offer much more than just ecological benefits. They also significantly improve the well-being of vehicle users and the surrounding population. For workers, the use of batteries improves air quality and reduces the vibrations and noise generated by internal combustion engines.
In tunnels – where resonance is amplified – it's a revolution in terms of worker comfort. From a purely economic point of view, the equation is advantageous. Not only is there a considerable saving on fuel, but the clean electric motor significantly reduces maintenance and overhaul costs.
We also offer maintenance and technical support services, enabling us to maintain a high level of customer satisfaction and build a lasting relationship of trust. Our team is made up of highly qualified engineers and technicians who listen to our customers' needs and work together to offer a solution that is both effective and durable.
For more personalised assistance with your project, contact us directly.