Electric train battery: an efficient and versatile solution
The electric train battery plays a key role in the transition to a greener, more sustainable rail landscape. Thanks to this promising technology, electric trains can operate autonomously, independently of an extensive electrical infrastructure.
By integrating powerful and durable batteries, trains can efficiently store and release electrical energy, optimising their energy performance and reducing emissions.
By reducing the sector's carbon footprint and improving network connectivity, the electric train battery is actively helping to green the rail landscape, paving the way for more sustainable rail mobility and a greener future.


Batteries at the heart of the energy challenge for electric trains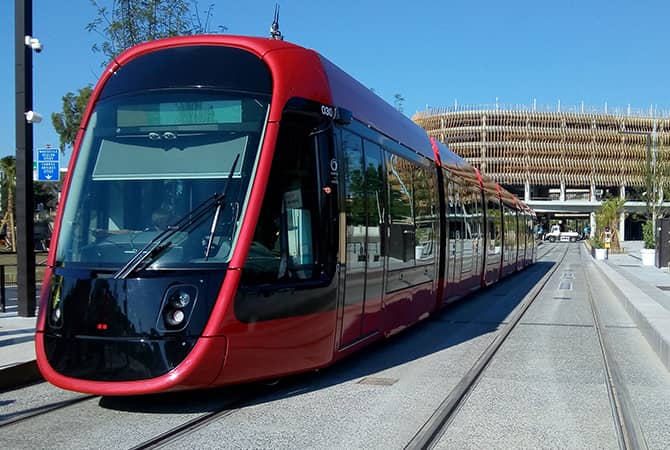 Rail is an essential means of transport, whether for passengers or goods. It is also the most carbon-free mode of transport, accounting for just 0.5% of CO2 emissions from the transport sector in Europe (4.3 mt CO2 emitted in 2018). However, certain rail applications, such as shunting locomotives, regional trains and freight trains, still largely run on diesel: 50% of European locomotives represent 20% of total rail traffic.
Today's rail vehicles are made up of different energy solutions:
diesel trains on non-electrified lines;
dual-mode electric trains with diesel engines;
electric trains.
Many players in the rail industry have already begun this transition. For example, the hybrid TER SNCF will soon be deployed in 4 partner regions. Diesel TERs are also being replaced by lithium battery TERs, notably in the Auvergne-Rhône-Alpes and Hauts-de-France regions. With these SNCF initiatives, passengers will be able to benefit from the advantages of efficient public transport while reducing greenhouse gas emissions.
You too can put innovative, sustainable solutions in place today by calling on the expertise of a reputable company like Forsee Power.
The advantages of the electric train battery
Batteries are not just good for the environment. There's no doubt that it's essential to meet the climate challenge, and Forsee Power batteries are ideal in this respect. But their use also makes economic sense. Energy costs are lower for hybrid or electric engines than for diesel engines, which require massive recourse to fossil fuels.
What's more, maintenance operators can carry out their operations more efficiently and more quickly on trains equipped with lithium-ion batteries.
The performance of these new systems and the optimisation of their operation reduce the number of hours of maintenance required. They are also less prone to breakdowns thanks to their more modern design.
Last but not least, the on-board batteries contribute to passenger comfort by providing innovative engines with constant power. For all these reasons, electric or hybrid rolling stock is the ideal solution for combining performance, user satisfaction and environmental protection.
Innovative, high-performance and adaptable solutions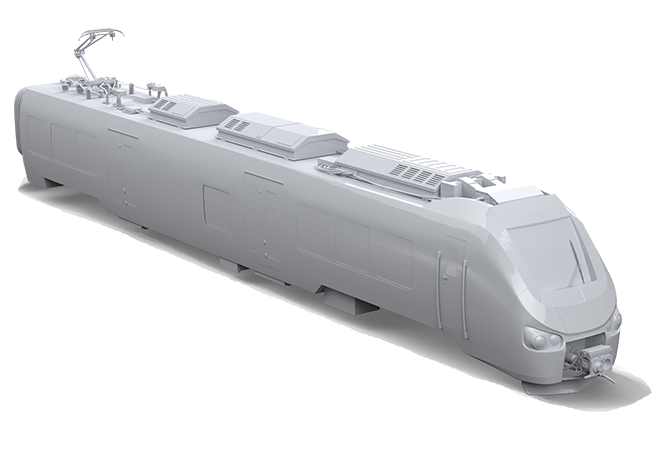 Rail infrastructure is complex. On some lines, combustion engine trains can be combined with hydrogen trains. At Forsee Power, we are therefore cultivating the quality and diversity of our product range for electric trains.
Our battery solutions operate on a 100% electric infrastructure or on a hybrid installation.
In addition, we offer fast-charging batteries such as the PULSE 2.5 or PULSE 15 modules, as well as modules such as the FLEX PLUS that allow you to adapt the opportunity charge or depot charge as required.
Forsee Power is on hand throughout your project to help you deploy your energy solution. To this end, we have developed components for setting up a complete electrical infrastructure:
An auxiliary power converter;
An energy storage system for energy recovery;
An energy storage system for catenary-free operation;
Trackside energy storage;
An ultra-fast recharging station.
Our experts will help you choose your electric train battery
The Forsee Power team helps you deploy innovative solutions. Throughout your project, our experts will work with you to define your needs and install the right solutions. Our batteries or hybrid powertrains will work in conjunction with the fast-charging stations at each station to guarantee performance and comfort for passenger transport and efficiency for freight transport.
Our innovations enable you to implement catenary-free solutions thanks to energy-independent trains.
Regenerative braking and fast in-station charging in less than 20 seconds will be enough to keep your electric trains running efficiently at all times.
What's more, our solutions are designed to operate for 15 years, guaranteeing you a significant reduction in costs and a significant improvement in the performance of your rail network.
Our scalable, modular solutions for rail vehicles are the key to meeting the energy challenge for rail vehicles.
For more personalised assistance with your project, contact us directly.