the best compromise between energy & power
available in 52 kWh and 56 kWh
2 variants are available for this same product family, giving you all possible voltage and capacity options to best match your power and energy requirements.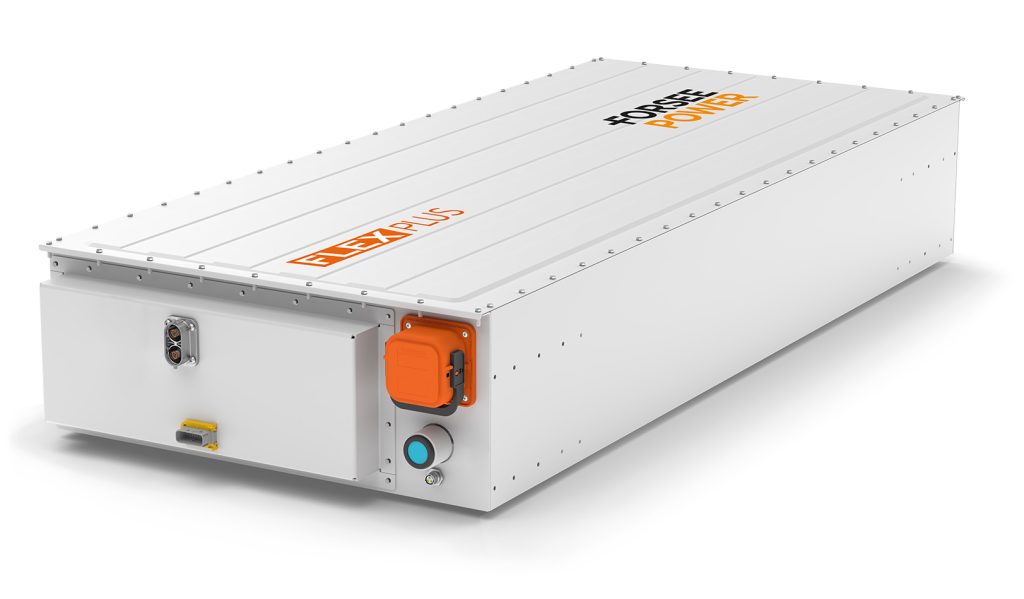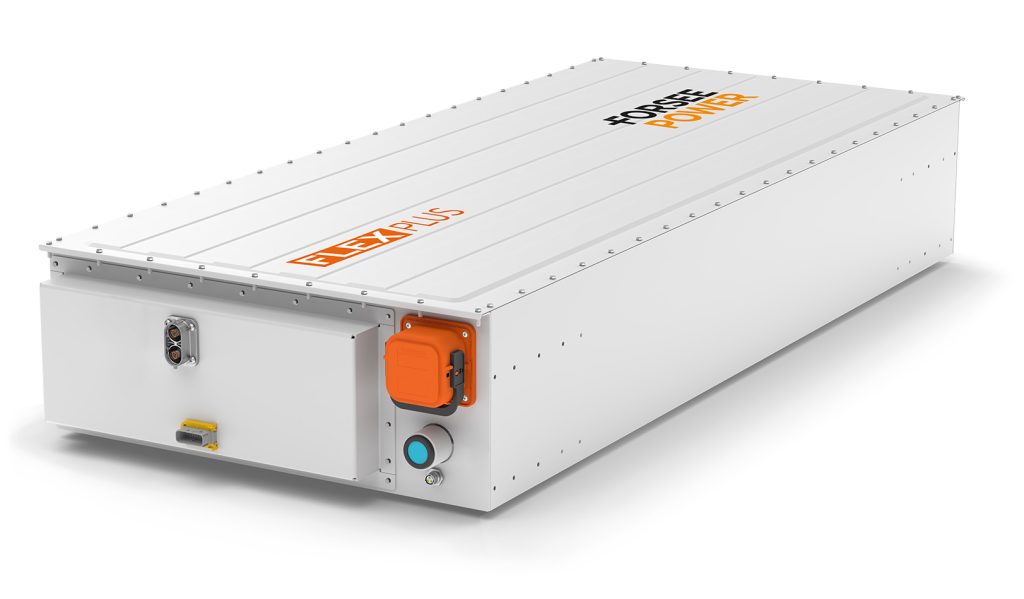 A perfect solution combining power and energy for 100% battery-powered heavy-duty vehicles, thermal and fuel cell hybrids
FLEX PLUS is the latest addition to the PLUS format family, available in two options – 52 kWh and 56 kWh – with the possibility of perfectly adjusting voltage and energy to the needs of the application; it can support both 650 V and 800 V motorization in the same battery format.
This new battery offering, developed for heavy-duty vehicles such as buses and trucks, is a perfect combination of power and energy, enabling opportunity charging, use with a thermal hybrid vehicle or a hydrogen vehicle. FLEX PLUS can be charged and discharged with a continuous current of 160 A at 2C, and is suitable for a peak charge and discharge of 400 A at 5C.
Eco-designed, FLEX PLUS offers an 8,000-cycle service life for an ultra-competitive total cost of ownership (TCO).
Eco-design is at the heart of the Group's R&D efforts. Forsee Power's engineers have selected the best NMC lithium-ion cells which, combined with high-performance liquid thermal management, give the new Forsee Power FLEX PLUS an 8,000-cycle service life, for an ultra-competitive total cost of ownership (TCO).
At the end of their first life, FLEX PLUS batteries can also be used in stationary energy storage systems for many years to come.
These new packs not only ensure a highly competitive service life, but are also designed for easy repairability. The power distribution unit (PDU) is removable to facilitate maintenance and optimize vehicle availability.
Forsee Power's engineers guarantee the safety and reliability of battery systems, taking into account all applications and conditions of use. The safe, robust design of the FLEX PLUS range complies with the ISO 26262 ASIL-C functional safety standard for road vehicles, as well as many other stringent road and industrial standards such as R100-3, R10-6, ISO 12405, SAE J2464.
What's more, the innovative FLEX PLUS format reduces costs by increasing the volume of purchases for the housing and other components, offering a highly competitive option for OEMs.
| | | |
| --- | --- | --- |
| | FLEX 52 PLUS | FLEX 56 PLUS |
| Technology | Lithium NMC | Lithium NMC |
| Voltage | 656 V | 700 V |
| Energy | 53 kWh | 56 kWh |
| Energy density | 158 Wh/L | 168 Wh/L |
| Thermal management | liquid | liquid |
| Protection class | IP67/IP6K9K | IP67/IP6K9K |
| Dimensions | 1 700 x 705 x 275 mm | 1 700 x 705 x 275 mm |
| Weight | 410 kg | 435 kg |