100% lithium or hydrogen battery electric solutions – including a lithium-ion battery – are the most mature and coveted alternatives for the energy transition of the transport sector.
Lithium batteries are being actively researched and improved: lighter, more compact, more capacitive, faster charging and more stable over time, solid-state cell manufacturers are announcing one after the other their incredible results and betting on this "technology of the future". Over the past 10 years, interest in this technology has been revived with the use of new materials with high ionic conductivity.
With an energy density increased by 100%, a considerably longer range and a recharging time of around ten minutes, solid-state batteries could convince electric vehicle manufacturers. What is the reality?

What is solid-state battery technology?
The principle of the solid-state battery is simple: replace the electrolyte, the liquid solution into which Li+ ions migrate, with a solid material. The first solid-state batteries were manufactured in the 1980s in the form of thin films. But the difficulty of manufacturing these more powerful batteries led manufacturers to abandon them.
Solid-state battery technology has many potential advantages:
The electrolyte used in a lithium battery can be flammable or simply evaporate and make the batteries unusable. Its disposal in solid state batteries solves these problems.
Solid state batteries are known to have a high energy density, up to 1,000 Wh per litre, and therefore offer a longer range for vehicles. In addition, higher operating temperatures make it possible to reduce cell cooling systems and design more compact batteries.
Solid-state batteries have theoretically higher current ratings and therefore charge quickly (15 minutes would be sufficient for them to reach an 80% charge).
However, we must remain cautious: only massive use in real conditions will confirm their effectiveness.
Many electric vehicle manufacturers are betting on the solid-state battery. However, solid-state battery technology is neither mature nor proven at present, and its industrialisation is not planned for the immediate future: the industrialisation of solid-state cells is still in the R&D phase.
The first battery electric vehicles or hydrogen hybrids equipped with a solid-state battery should have a much higher purchase cost than those integrating lithium-ion technology because the production investments will have to be amortized.

Solid-state battery initiatives for light or short-range vehicles
By partnering with QuantumScape, Volkswagen has, for example, invested heavily in solid state battery technology for its passenger cars, aiming for production in 2025.
This technology is also used in the small BlueCar city cars, which have limited speed and a short range. Other automotive groups are working on its development, such as Ford, BMW and Volta Energy, which have invested in Solid Power, a solid-state cell manufacturer. The company has raised $135 million in 2021 to develop its own solid-state battery model for the energy transition of electric vehicles. Factorial, meanwhile, has raised $200 million in 2022.
For the moment, these types of cells are mainly envisaged for light vehicles or vehicles with a short range such as passenger cars or light inter-urban vehicles (industrial vehicles, last-mile delivery, etc.) Toyota has announced that its first electric vehicles incorporating solid-state batteries will go on sale in 2025.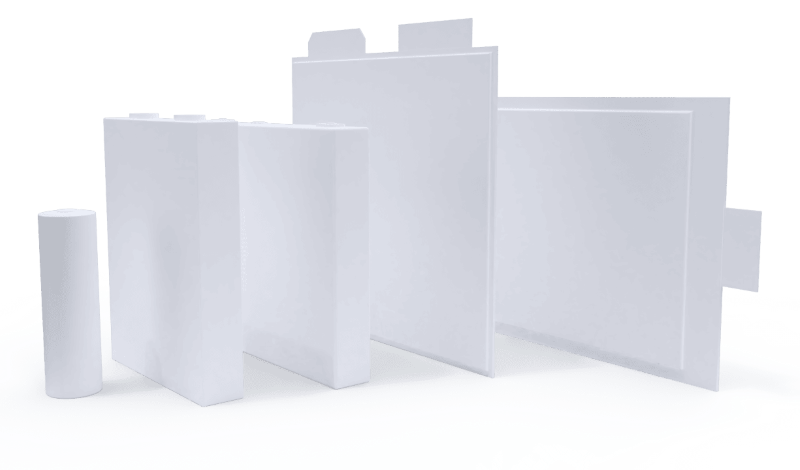 Forsee Power, in tune with the technological evolution of solid-state battery for electric vehicles
As an expert in battery systems for electromobility markets, Forsee Power is interested in all electrochemical cell technologies that would further optimise the performance of electric vehicles (buses, trucks, off-highway vehicles, etc.).
At the moment we do not have much experience with this new technology. It is difficult to predict the actual performance, cost, reliability and safety of these cells in heavy-duty vehicle batteries.
Although we are keeping an eye on all-solid batteries, we prefer to rely on mature technologies (NMC, LTO, LFP, etc.) that are constantly evolving. This allows us to meet our customers' needs while continuing to innovate in terms of battery modules, packs and systems.
When designing a battery system, our experts select the latest and most efficient cells on the market, taking into account safety, space and weight requirements. But we also take into account the costs, availability and reliability of the cells used.
The cells are only part of the whole: once the technology has been chosen, we then have to assemble the cells, add the various components (sensors, busbars, etc.), develop the electronic battery management system (BMS) that ensures communication, safety and battery life, integrate the thermal management of each component and finally protect the whole thing in a suitable housing.
Selecting the best cells (and the best suppliers) is therefore only one aspect of our expertise.
Blue Solutions and Bluebus partner with Forsee Power to develop the 100%-French battery of the future and source lithium-ion battery systems
Blue Solutions and Bluebus, subsidiaries of the Bolloré Group, and Forsee Power announce that they have signed two memorandums of understanding to launch two new collaborative projects. On the one hand, Blue Solutions and Forsee Power are initiating the development of 100%-French solid-state battery systems that will be available on the market from 2026. On the other hand, Bluebus and Forsee Power partner to integrate the latest lithium-ion battery systems to expand the range of 6-meter and 12-meter buses, and thus meet all the expectations of the European, Middle Eastern and African markets.