135 mm only for smaller volumes
height only for integration in the smallest spaces
energy density for a full day's operation without intermediate recharging
The ZEN SLIM modular battery with high energy density is ideal for adapting to space constraints, and puts innovation at the service of environmentally-friendly transport. Designed for 100% electric vehicles, ZEN SLIM batteries are available in 3 sizes: 11, 16 and 21 kWh.
3 capacities for the same product family, giving you all possible voltage and capacity options to best match your power and energy requirements.
With its extra-flat format, unprecedented technical innovations and multiple integration capabilities, the SLIM format is revolutionary in its modularity.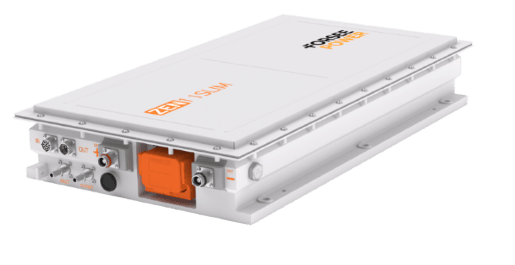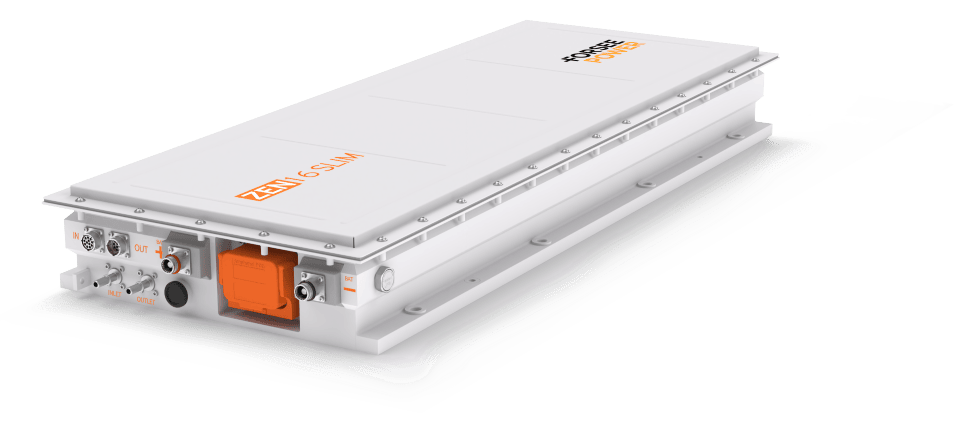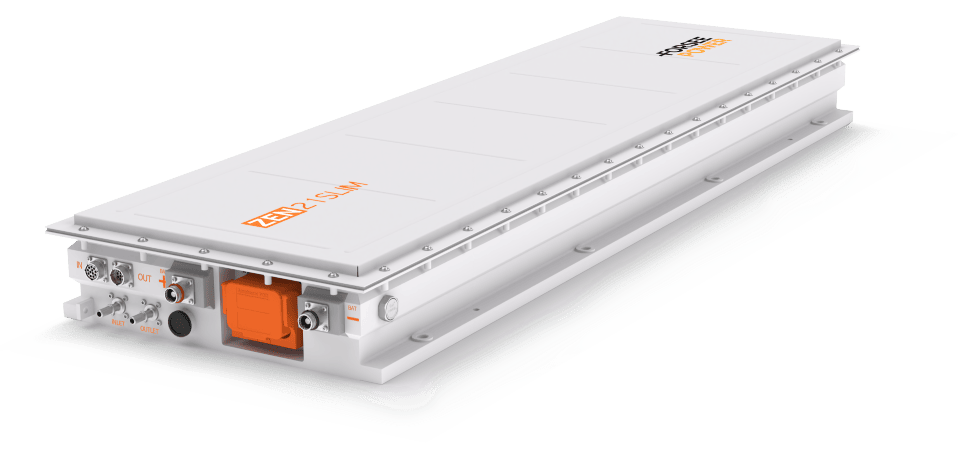 A modular, extra-flat format for integration into any space
To meet all your space constraints, Forsee Power has developed the ZEN SLIM modular lithium-ion battery pack in three different formats. This makes it possible to build systems according to your needs and space available in the electric vehicle.
Some vehicle components, such as the floor, chassis and roof, are fixed in place. For this reason, our experts had to design a new type of battery that could fit into even the most confined spaces.
At just 135 mm thick, the 11, 16 or 21 kWh modules can be combined and stacked in the vehicle's various available spaces.
This makes it possible to develop a range of zero-emission vehicles without modifying the existing structure. For an electric bus or truck, for example, it is possible to integrate the batteries into the floor of the vehicle. This makes it possible to offer 100% electric transport without increasing the weight of the vehicle, while maintaining passenger capacity. In fact, the excellent gravimetric energy density gives a very good range without overloading the vehicle.
Innovations and high-end performance
To design the ZEN SLIM battery, all our experts in mechanical engineering, thermal engineering and electronics pooled their expertise. The result is a reliable, high-quality product at the cutting edge of innovation.
This high-energy modular battery has a service life of 5,000 cycles, thanks to the integration of premium prismatic lithium-ion cells. This results in a very competitive total cost of ownership (TCO). Estimated lifetime on a bus is 8 years.
Its voltage modularity also means that different vehicles can be powered from 600 V to 800 V, depending on energy required. 
The thermal management system ensures that the batteries maintain their performance, whatever the weather conditions. This liquid thermal management puts you in optimum condition, guaranteeing optimal performance and a long cycle life.
Finally, state-of-the-art dynamic charge control lets you charge the batteries overnight with a slow charge or with a near-full charge in 1 hour. ZEN SLIM batteries therefore offer great versatility that can be put to good use when designing your electric vehicle system. At all times, the autonomy of the various vehicles is guaranteed for all types of use.
Forsee Power and Wrightbus: the successful integration of ZEN SLIM
The ZEN SLIM modular battery is designed to meet space-saving requirements. For this reason, Forsee Power, as part of an exclusive partnership with Wrightbus, has integrated modules into various types of bus.
Thanks to the compactness of ZEN SLIM modules, we have been able to integrate batteries very easily into conventional buses, but also into double-decker buses. However, double-decker buses are difficult to integrate because it's impossible to place elements in the roof.
But Forsee Power has risen to the challenge. Each bus is equipped with three battery strings offering up to 340 kWh. It will also be possible to add a fourth bank, giving a total capacity of almost 432 kWh for a range of 350 kilometres.
Act for the energy transition
Our battery production is carried out as close as possible to the end customer. To achieve this, we have four production sites located in Europe, Asia and North America. This geographical location enables us to minimise CO2 emissions from transport and reduce delivery times for our customers.
What's more, these sites are also responsible for battery maintenance, should the need arise. In this way, the responsiveness of our services is assured, and the performance of your vehicle fleet is preserved, whatever the circumstances.
| | | | |
| --- | --- | --- | --- |
| | | | |
| | ZEN 11 SLIM | ZEN 16 SLIM | ZEN 21 SLIM |
| Technology | Lithium NMC | Lithium NMC | Lithium NMC |
| Voltage | 60 V | 90 V | 119 V |
| Energy | 10.6 kWh | 15.8 kWh | 21.1 kWh |
| Energy density | 199 Wh/L | 218 Wh/L | 220 Wh/L |
| Thermal management | liquid | liquid | liquid |
| Protection class | IP 67 | IP 67 | IP 67 |
| Dimensions | 845 x 465 x 135 mm | 1 158 x 465 x 135 mm | 1 471 x 465 x 135 mm |
| Weight | 65 kg | 96 kg | 127 kg |